User Interface (UI)
A – Character Information
| | |
| --- | --- |
| 1- Character Level | Displays your current level |
| 2- Character Name | Shows your name |
| 3- Extra Options | Gives different options in special situation, for example if you are team leader you can set the looting options here |
| 4- Status Bars | Shows your remaining Health (red), Qi (blue) and Stamina (orange) points |
| 5- Buffs | Will show every buff and debuff currently active on your character. The yellow gauge bellow the buff icon shows the duration of the buff. If the gauge remains full, the buff is permanent. If the gauge slowly drains, it means the buff only has a limited duration. When the yellow gauge is empty, the buff will disappear. |
| 6- PvP | Toggles PvP mode on/off |
B- Target Information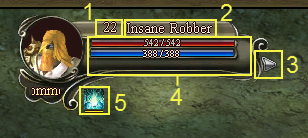 | | |
| --- | --- |
| 1- Target Level | Displays the current level of your target |
| 2- Target Name | Shows the name of your current target |
| 3- Extra Options | Gives different options in special situations |
| 4- Status Bars | Shows your target's Health (red) and Qi (blue) bars. |
| 5- Buffs | Displays your target's buffs and debuffs. The yellow gauge bellow the buff icon shows the duration of the buff. If the gauge remains full, the buff is permanent. If the gauge slowly drains, it means the buff only has a limited duration. When the yellow gauge is empty, the buff will disappear. |
| 6- Difficulty | Shows the target's level of difficulty, such as Common, Elite, Boss… |
C- Mini-Map

At the top of the mini-map you will find the name of the area you are currently in, as well as the exact coordinates of your location – in this case: x3326 z3535

These coordinates will help you to return to a previous location, find special in-game events, or indicating to a friend exactly where they can find you.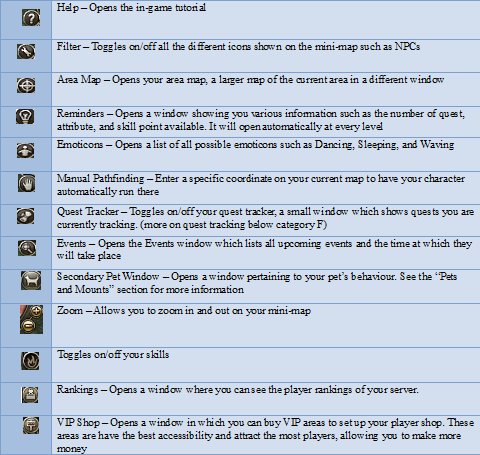 D- Chat Box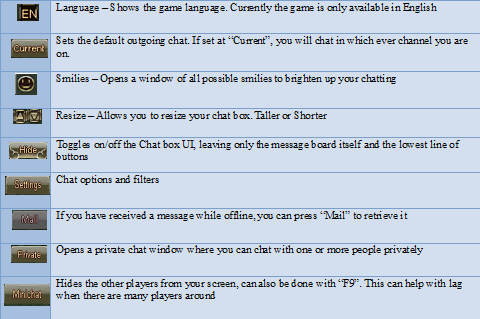 These are your various chat channels. Choose the channel you wish to see or choose "All" to keep up with everything that is currently happening. The chat channels "Team" and "Guild" will be silent until your join a team or a guild.

E – Shortcut Bars

Left-click and drag your skills or useable items down to the shortcut bar to have them automatically bound to the key indicated.
The blue bar in the middle, here surrounded by a yellow circle, is your experience bar.
There are four main shortcut bars (1 - c+F4) through which you can scroll with the small arrows on the right and left.
There are two mini-bars (F1 – F8 and a+1 - a+8) located above the main one. These can be toggled on and off. (default hotkeys "["and "]")
*Only the shortcut bars mentioned above are available in Loong.
The left button opens your Character Window.

The right button opens your Skill Window.
F- Quest Tracking

The quest tracking window is turned on by default. This is the list of quests that you are currently tracking.

When you accept a quest, it will automatically appear in your Tracking window.

The following information can be found in the quest tracking:

[Location] 1. Quest Name (Status)
Items to retrieve or Monster to destroy 0/3
Quest reply: NPC who gave you the quest OR who will give you the reward

*In Loong you do not always have to return to the same NPC who gave you the quest in order to complete it. Pay attention to the NPC in the "quest reply".

You can click on an underlined name in the quest tracker to automatically run to the location.

Note that you may sometimes be unable to start the waypoint system if you are not on the right map, or if your character is in blocked position such as being on a steep hill, or being too close to objects such as trees.
G – Secondary Target Information
| | |
| --- | --- |
| | This is a shorter version of the Target Information. It lists the name, level and difficulty of the monsters and more importantly, whether the target can be attacked or not. Certain NPCs such as merchants cannot be attacked. |
H – Menu
This is a list on the right hand side of the screen that will open up shortcuts
Character - Brings up your character window
Inventory - Opens up your bag window
Talent - Opens up the talent interface
Quest - Opens up the quest interface
Social - Opens up your friend's list
Guild - Opens up your guild interface
Spirit Beast - Opens up the pet and mount interface
Arena - Opens up the Arena interface. Create or join rooms for PvP battles
Dragonblood - Opens up the Dragonblood skill interface. Here you can upgrade your Dragonblood skills
Loong Trials - Opens up the Loong Trials interface and lists all Trials
Menu - System and Options interface where you can change settings or log out
Dragon Market - Opens up the Dragon Market where you can purchase Ingots and buy special items